Despite improvements in dental care, millions of people still suffer tooth loss either due to tooth decay, periodontal disease, or injury/accidents. For many years, the only treatment options available for people with missing teeth were dental bridges and dentures. But, today, dental implants are available.
A dental implant is an artificial tooth root that is placed into your jaw to hold a replacement tooth or bridge. Dental implants may be an option for people who have lost their teeth due to periodontal disease, an injury, or some other reason. Dental Implants are made of special biomaterials that are surgically placed in the jawbone under your gum line. After a few months the implant becomes anchored to the surrounding bone.
This dental implant can be used to stabilize dentures and bridges, and to replace just one tooth, or to rebuild an entire jaw of missing teeth. The best part is that they look and feel just like natural teeth. Dental implants are the next best thing for a healthy, natural, strong and stable teeth. A dental implant restores a lost tooth so that it looks, feels, fits and functions like a natural tooth when implanted by an experienced implant dentist.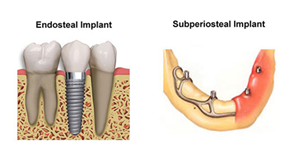 Endosteal (in the bone): This is the most commonly used type of implant. The various types include screws, cylinders or blades surgically placed into the jawbone. Each implant holds one or more prosthetic teeth. This type of implant is generally used as an alternative for patients with bridges or removable dentures.
Subperiosteal (on the bone): These are placed on top of the jaw with the metal framework's posts protruding through the gum to hold the prosthesis. These types of implants are used for patients who are unable to wear conventional dentures and who have minimal bone height.
Advantages of Dental Implants
Long Term & Cost Effective
Dental implants are built to last. That makes them the best long-term, cost-effective solution. Traditional, tooth-supported dental bridges only last five to seven years, and with proper care often more than 10 years, but at some point they may need to be replaced.
Keep Your Teeth in Your Mouth
Dental implants keeps the teeth in the mouth unlike dentures. It allows one to keep the teeth where they belong (in the mouth)
Zero Cavities
Cavities cannot occur in an implant-restored tooth or replacement tooth; however, one will to care for the implants by visiting the dentist as scheduled, cleaning and caring for the implants, the gums and the mouth every day.
Perfectly Predictable
Dental implants are more predictable than other teeth Replacement methods. According to proven implant dentists, it has a track record of reliable, long-term successful outcomes and is often considered "more predictable" than other teeth Replacement method
Zero Worry. Enjoy Life.
Dental implants allows to enjoy life without worrying about the teeth. There is no need to stay at home or feel uncomfortable in public and be embarrassed because smiles looks different.
Retain Natural Face Shape
Dental implants retains natural face shape and smile. A face without teeth can sag and appear sunken and sad but Dental implants helps to maintain the natural shape of the face and smile.
Protect Your Bones
Dental implants protect the healthy bone; Leaving empty spaces in the mouth after losing one or more teeth can lead to additional health issues, therefore these implants help seal the gate for bacteria and infection causing organisms.
Make an Appointment Today!
NoFrills Dental @ Marina Square
6 Raffles Boulevard,
Marina Square,
#B1-11
Singapore 039594
T: +65 6227 8885
E: [email protected]
NoFrills Dental @ Suntec City
3 Temasek Boulevard 
Suntec City (North Wing)
#03-317
Singapore 038983
Partnered Programs & Insurance Plans