Dentistry could be defined as the diagnosis, evaluation, prevention, and treatment which could either be nonsurgical surgical or related procedures, of diseases, disorders, and conditions of the oral cavity provided by a dentist. Dentistry involves the treatment of a large range of conditions, diseases, and disorders affecting the human teeth, gums and the maxillofacial (relating to the jaw and face) region of the body.
General dentists are the main providers of dental care to people of all ages, and on that note, these are what General Dentists do –
General dentists perform routine services which focus on preventative maintenance. These services aids to prevent decay or disease of the teeth, mouth, gums, and tongue. Examples include cleanings and routine exams.
If preventative measures aren't enough, general dentists also incorporate restorative dental care. Restorative services are done to repair damage caused by tooth decay, trauma, or disease in the mouth area. Examples include crowns and root canals.
These are a few procedures under general dentistry, as the name implies it covers the general aspect of tooth care.
Restorative Procedures:
During a dental examination, the general dentist uses instruments, tests, radiographs and clinical expertise from experience to diagnose potential or inherent disease conditions and pathologies. The general dentist primarily focuses on the oral cavity, head, and neck. An individualized plan is then developed to prevent or treat disease states of the oral cavity.
Dental Fillings:
Dental fillings like they sound are used in a very careful manner to repair the damage done to the structure of a tooth. Structural damage is usually caused as a result of tooth decay, wears or trauma done to the tooth which could come in different forms. After the tooth giving problems is removed from its structure, it is restored with one of the several available filling materials known to help. They include the gold, the amalgam, the composite resin known as the white filling material or porcelain. Now each filling material as it should has different advantages and disadvantages.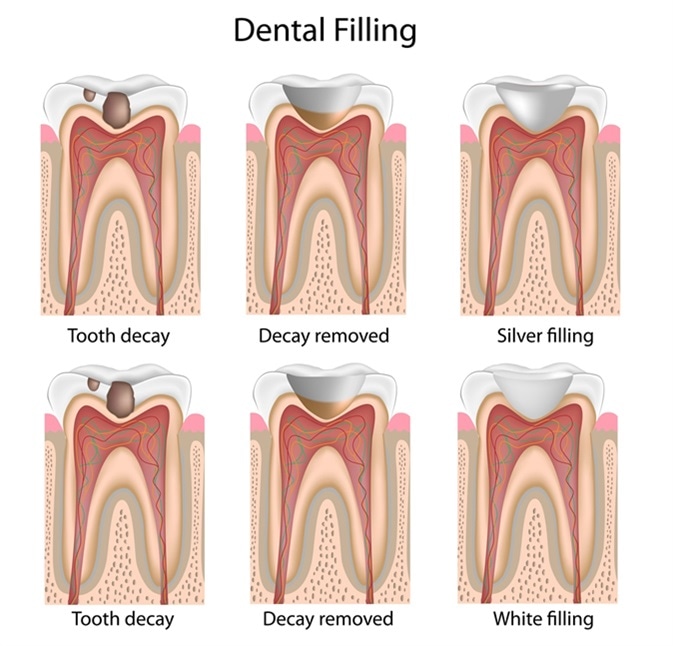 Bonding:
Bonding is a term used to depict the process of applying composite resins to glue materials to the surface of a tooth to restore it. Examples of defects repaired through this bonding process are chipped or cracked teeth. In doing that, an enamel-like composite element is applied to the surface of a tooth, and then it is sculpted into shape, contoured and polished thereby making the crack or chip invisible.
Orthodontics:
Solutions have been gotten for misaligned teeth in that they can now be straightened and corrected with both dental braces and retainers. Orthodontics, therefore, is both a functional and cosmetic treatment which has become an increasingly popular field of dentistry.
Root Canals:
The work of root canal therapy is to remove infected pulp tissue usually found within the root chamber of the tooth. This is done by filling the hollowed-out tooth with an antibacterial filling then the tooth is "capped" with a crown for protection.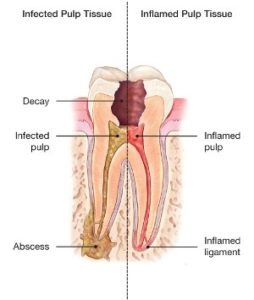 Dental Crowns:
Dental crowns has quite an amount of functions. They can repair extensively decayed or damaged teeth. Dental crowns have different types, and some can be made of gold, silver, porcelain or even a combination of porcelain and metal. Some dentists have also been known to use CAD/CAM technology to fabricate dental crowns. In some cases, conservative dental veneers may be used to replace the need for a dental crown.
Dental Bridges:
Dental bridges do the work of replacing missing teeth with artificial replacements called pontic. This pontic is held in place by composite materials which are anchored to surrounding teeth. 
Dentures:
Dentures are used to replace teeth missing from their place or damaged teeth that cannot be otherwise repaired.
Oral and Maxillofacial Procedures:
Oral and maxillofacial procedures vary from the less invasive treatment of abnormalities of the mouth, jaw, and face to major oral surgeries. Dental implants, reconstructive surgery and cleft lip and palate procedures, and TMJ (temporomandibular joint) procedures, also fall under the oral and maxillofacial category.
Periodontal Treatment:
Early gum disease treatment as it may include tooth scaling and cleaning at different intervals like three-month intervals along with the use of medicated mouthwash and proper flossing. The Later-stage gum disease treatment which is more serious may now have to include deep-plane scaling, periodontal surgery, and laser surgery.
Make an Appointment Today!
NoFrills Dental @ Marina Square
6 Raffles Boulevard,
Marina Square,
#B1-11
Singapore 039594
T: +65 6227 8885
E: [email protected]
NoFrills Dental @ Suntec City
3 Temasek Boulevard 
Suntec City (North Wing)
#03-317
Singapore 038983
Partnered Programs & Insurance Plans